BioPhotonics is the interaction of living cells (Bio) with the electronic control or detection of light (Photonics). Within this market are several areas of focus, as briefly described below.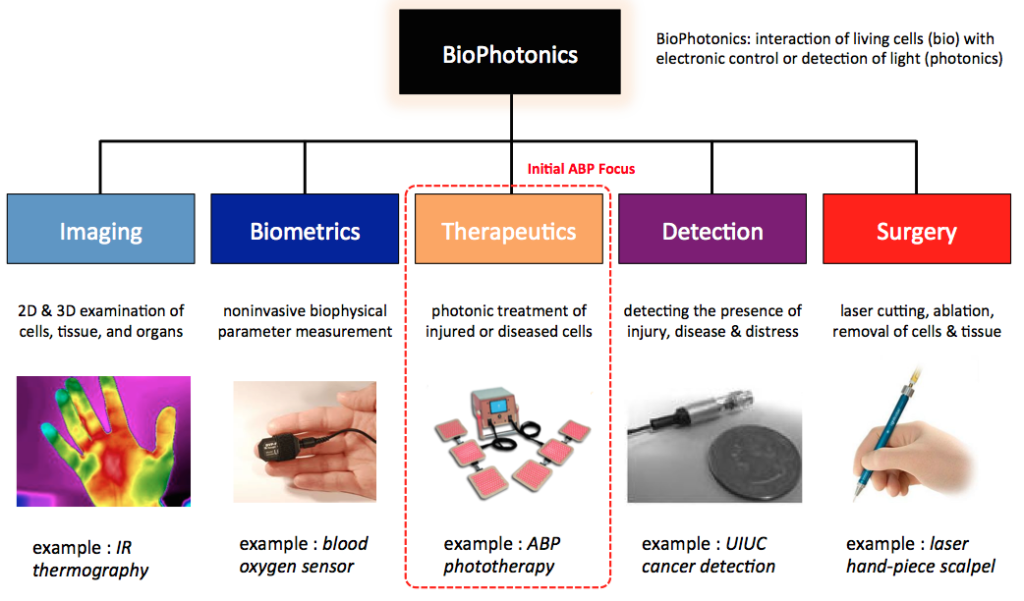 Phototherapy or Light Therapy is the use of light as a theraputic treatment for bodily concerns. There are many records today of phototherapy used in practice, from skin conditions to psychiatric disorders, although the type of application and types of light may vary.
At Applied BioPhotonics, our initial focus is to manufacture devices that supply a non-invasive low-level exposure of red, blue, or infrared light to treat injured cells. None of our devices use lasers nor do they use possibly-harmful light spectrums such as ultraviolet light. In addition, our machines are able to aid in a variety of ailments. Reported results from our clients include pain relief (muscle, tendon, back pain, etc.), relief from colds, aid in weight loss, hair regrowth, recovery from stroke/heart attack, and many more.
The science behind the work of phototherapy can seem complex but looking at the big picture shows that it is ultimately quite simple.
The rays from our sun has many health benefits including, but not limited to, increased blood flow, vitamin D production, and increased immune system. However, we also know that the sun's rays emit harmful ultraviolet light. But what if we were able to filter out the bad light and keep the good light that still benefits our bodies? And what if we were able to target that light on the parts of our bodies that need it most?
With ABP phototherapy, we are able to do just that; we program our devices only with the "good light" and are able to target different tissues, muscles, and other body parts using different wavelenghts of light. The various wavelengths used are specified to penetrate our body's layers to get to where it's needed, in order to provide a non-invasive but deep healing.
For a more in-depth look at the affect of low-level light therapy, below is a table to show the impact of photobiological stimulation on organisms and various parts of the body.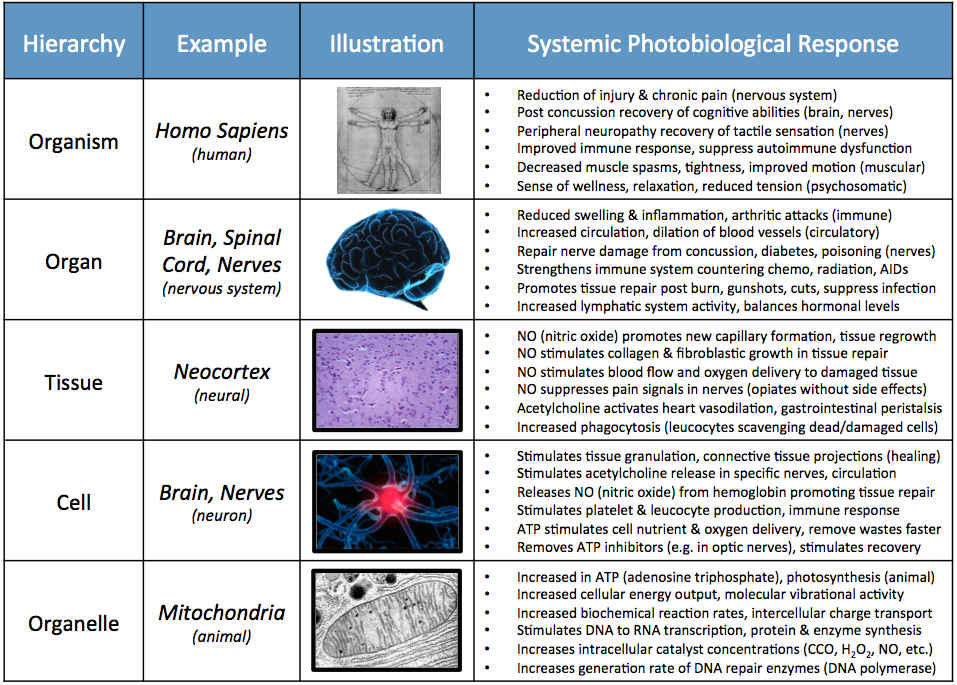 See the full list of Successful ABP Treatments