Applied BioPhotonics Ltd. is a global developer and manufacturer of professional, prosumer, and consumer biophotonic devices including photobiomodulation therapy (PBT) systems. For FDA-approved professional medical devices, ABP operates as a registered design specifier, IP holder, GMP certified manufacturer, global distributor, and internationally registered exporter of its products.
ABP-made products are distributed and sold exclusively under several brand names, varying regionally and by market. Purveyors of ABP's photobiomodulation therapy products include: LightMD covering North America and parts of Europe; LightDr covering greater Asia (including China), Japan, and Oceana (including Australia); and AraLight supporting India, the Middle East, and Africa. Sales channels include distributors, sales reps, and value added resellers (VARs).
ABP also supports market-specific product brands PetLight for pets and small animal veterinarian services, and EquineLight for horses, camels, and large animal veterinarian services.
For biophotonic products beyond photobiomodulation, ABP is available on a contract basis for custom design and manufacturing services. For custom developments, contact ABP by email at [email protected].
ABP's Global Sales Channel
Where Can I Buy ABP-Made Products?
To purchase photobiomodulation therapy (PBT) products, please select a region.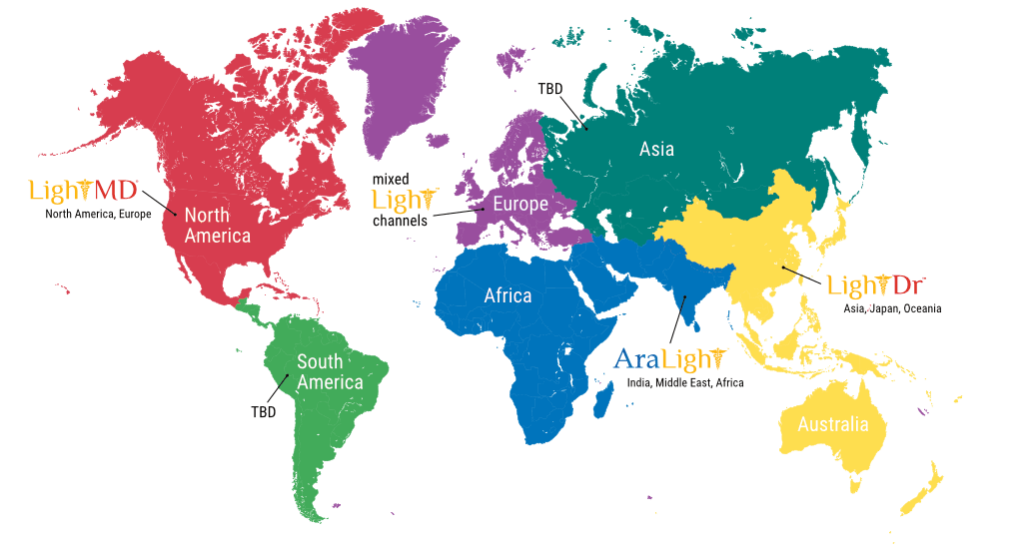 ABP's PBT Services Available
Where Can I Try ABP-Made Products ?
ABP devices are available through clinics, hospitals, physicians, chiropractors, physical therapists and various medical providers as well as through spas, gyms, salons, wellness clinics and through athletic organizations. Examples include:
Northern California
Thao Chiropractic, Belmont
Monta Vista Family Chiropractic, Cupertino
Health Quest, Los Gatos
Dr. Tomas Bloink, Los Gatos
Chase Chiropractic, Los Gatos
More Physical Therapy, Los Gatos
SOL Performance Training, Oakland
EMT Consulting Solutions, Prunedale
Dr. Kim Millman MD PhD, San Jose
Dr. David Cahn MD, San Jose
Southern California
Dr. Tommy Knox DC, Costa Mesa
Origin Day Spa, Encinitas
Dr. Jim deBoer DC, Indio
Eric Davidson, Laguna Beach
Dr. Kris Halsey, Solano Beach
Texas
Texas Spine & Sports Therapy Center, Austin
Ann Kristen Allen, Boerne
Dr. Kurt Mackie DDS, Boerne
Advanced Spinal Pain Mgmt, S. Padre Island
Dr. John Raimondo, San Antonio
Drs. Jason & Amy Lydon, San Antonio
Dr. Kelly Thompson, Fredicksburg
Dr. Lewis Connor, Azle
Arizona
Dr. Anthony Theiler, Phoenix
Dr. Ron Andelora, Tucson
Illinois
Dr. Melissa Orth-Fray, Chicago
Florida
Advanced Muscle Therapy, Fermandina Beach
New York
Dr. Marc Weill, New York
Nebraska
J. Sieckmann Enterprises, Omaha
Montana
Pro Adjuster Chiropractic, Missoula
Active Relief Chiropractic, Helena
Wisconsin
Howard Chiropractic Clinic, Green Bay
Asia
Wen Cai Meng, Beijing PRC
Europe
Dr. Thomaida Polydorou, Brecize, Slovenia
Not all locations listed.
ABP's Growing Insurer Support
ABP continues to expand it global network of insurance carriers.
Coverage varies by region.